PHOTO ALBUM
These are a just a few of the guns made in the shop.
(Click on each blue hyperlink or photo below to open each photo album or photo.)
Enjoy!
Click on the following photos & hyperlinks in this section and you will be able to see how the guns were built from scratch to finish. There are a lot of photos and instructions related to how I did it. Hope this information is useful to you.
Later Southern Mountain Rifle - .40 Caliber with a 7/8" barrel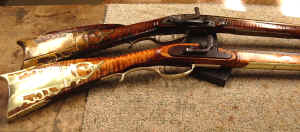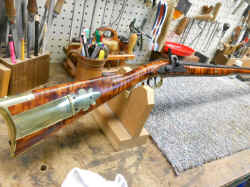 Lancaster Rifle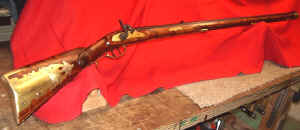 J.P. Beck School - Early Lancaster Rifle "Re-Becka"
John Grandstaff or Virginia Rifle (Youth Rifle Project:)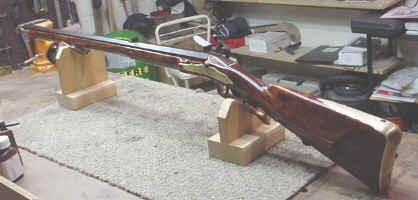 Edward Marshall Rifle (Christian Springs Rifle)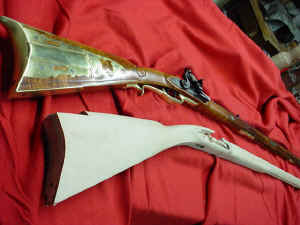 James Armstrong Rifle (Maryland School)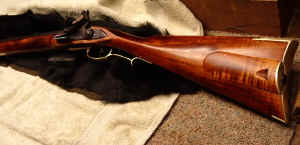 Isaac Haines Rifle (Left handed)

Isaac Haines Rifle (Left handed)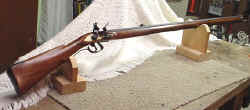 Early Youth Transitional Southern Tenn. Rifle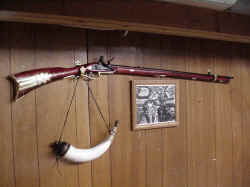 Bethlehem Rifle - John Rupp (My "Journeyman Rifle")
Here is the Queen Anne pistol made with pure English walnut stock and all the metal pieces were cast from original pieces. They all had to filed down to mate, be drilled and tapped to fit together. Click the photo to open up the web page with photo breakdowns of the pistol. [Check out the Queen Anne Pistol and learn something about the unique lock system for this early English pistol]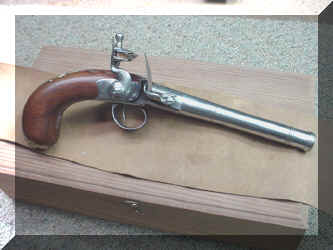 ===============================================================
These are photos of just a few of the projects that came out of the shop.
1750 Pistol (First Pistol) "Free-Styled" Target Pistol Dueling Pistol Kentucky Dueling Pistol
Kentucky Pistol Grand Daughter Target Pistol
Pistol Rack Powder Horns:
Hand-made Single Set Triggers
Hand-forged Butt Plates
(Bookie allowed me to use his forge)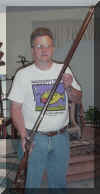 Lancaster Rifle - Jacob Dickert School