Inside The Shop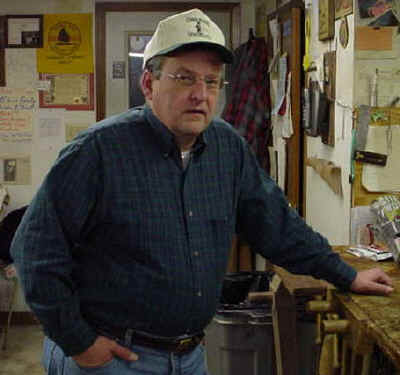 Gunmaker Self Biography: Became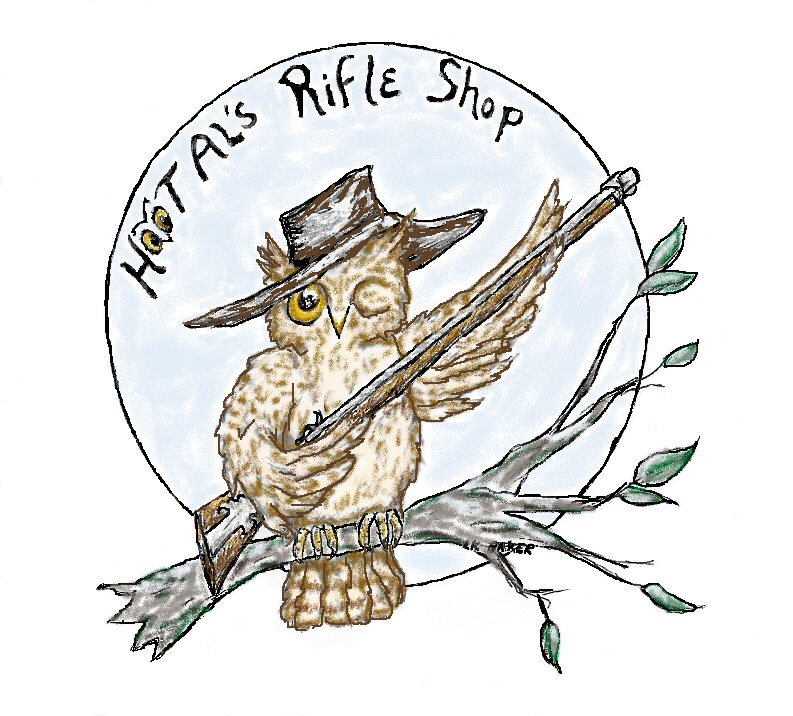 interested in building guns back in 1978 and started full time into the craft in 1994, when I began my apprenticeship under the scrupulous eyes of Master Gunsmith Steve "Bookie" Bookout of Toad Hall Rifleshop and the Yellar Tomcat Forge in Newton, Iowa. In the fall of 1999, I earned my Journeyman gunsmith status, through both Mr. Bookout and Jack Garner.
It has now been 10 years since I got my "Journeyman" status. Time flies by quickly.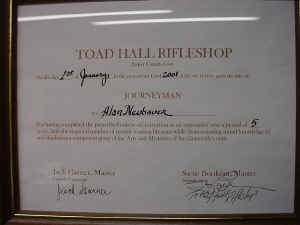 If you need references on the rifles built no problem (See Testimonials section) my friends would love to talk to you.
Shop Philosophy: This is an antique traditional gun smith shop. Notice I said gun smith and not gun stocker. At my shop I operate under the same philosophy as Toad Hall Rifleshop, which states, "a person who assembles a gun with store-bought components is a "gun-stocker". Conversely, the person who makes lock, stock and barrel and all the little stuff in between is a "gun-smith". However, I do help people put their kits together.
The rifles from Hoot AL's Rifle Shop are handcrafted and custom built. Each gun has it's own character. They're built to be family heirlooms. They are truly one of a kind! All guns are built as if I'm building my own rifle.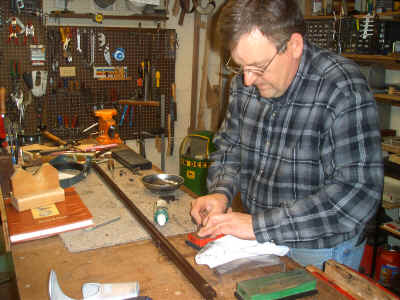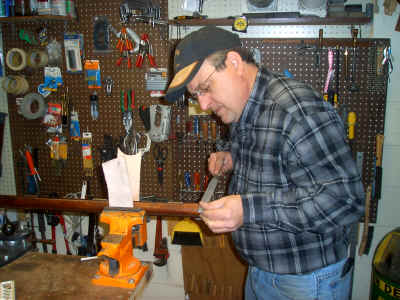 SAFETY is a very important word here in the Shop! If I wouldn't let my youngest Granddaughter pull the trigger, it don't leave the shop! Period. I proof each and every barrel with "Bookie's" genuine "Iowa Barrel Tester", featured in the January, 1996 issue of Muzzle Blasts magazine, with double my recommended powder charge and two patched balls of proper caliber.
Shop Parts: Sometimes "Bookie" lets me play around in the Yeller Tom Cat Forge. This is where I forge many components for my Tennessee long rifles. We prefer not to forge rifle furniture and sell it by the piece because it might not be quite the size or shape you want when you go to install it on your gun.
I'm a traditionalist. It's going to be correct or you'll have to get someone else to build it or help you do it. I don't provide kits. At the end of this site, (See the Purveyor's page for links.) you'll find a page that lists where I buy my parts when I don't make them and where you can obtain kits.
As I had stated earlier, a lot of the shop parts are acquired from Jim Chambers Flintlocks, Ltd, who puts together what Steve and I think is the finest assembly of parts. The Track of the Wolf has quite a selection of kits that can't be beat either.
This is the new shop in Iowa: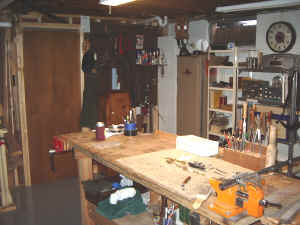 Visitors To The Shop (in Iowa):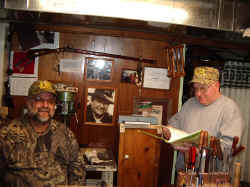 Jim Ide (left) & Rick Welch (right) of Oskaloosa, IA stopped by on 03/25/05.
Jim brought by his .50 caliber Traditions pistol. We cleaned up and tuned the lock and took a look at the barrel he was having some trouble with. Next time we'll take a look at his Tennessee rifle. Rick's thinking about building a rifle. He and Jim gandered thru all the books in my library to get some ideas, then they had to head home.
Mike Swinscoe (left) & Jim Ide (right) of Oskaloosa, IA stopped by on 11/19/05.
Jim said his pistol is working a lot better now and since his last visit, I poured a pewter nose cap for his rifle. He's pleased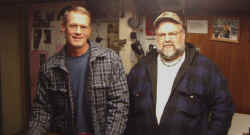 with it. Mike was looking for a pistol and was inquiring about the .50 caliber Kentucky I have . Told him since I made "Hoot" it's been collecting dust. They'll be back. Jim needs some work done on another rifle he has plans for. A Lancaster rifle with swamped barrel. He has already laminated some oak together to make the stock from. I warned him it might be a little heavy, but he's not concerned. .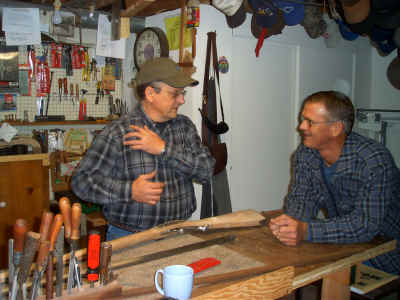 Jim Ide (left) & Rick Welch (right) of Oskaloosa, IA stopped by on 03/18/06.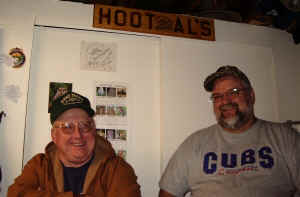 Jim informed me that Mike Swinscoe started working on his own rifle now and and is stocking it from a blank. Good luck and have fun Mike. Rick and Jim wanted to stop by the shop and see the rifle in person I was working on. Jim left me a book that was "mind blowing", called Steel Canvass. That book was so cool, I got on the internet and bought my own copy. We told lies and stories for a couple hours before they had to hit the road. They were heading over to Toad Hall to see my friend Steve Bookout next.
Thanks for stopping by fellas.