Barrel Reaming, & Rifling DVD: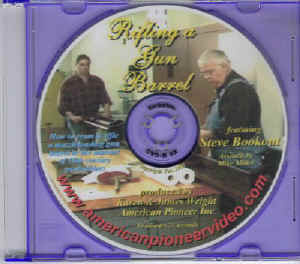 Click to enlarge
Gents, here's your chance to get a copy of the American Pioneer production of Mike Miller and my friend Steve Bookout reaming and rifling a barrel with his wooden tools. In a hair over a half hour, you'll see one method of how they go about doing it the same way we did at Toad Hall Rifleshop. This DVD was made to go along with our book on rifling, A Wooden Iowa Rifling Bench, now in it's expanded Second Edition.
Git'em while they're hot!!
58 page Book: $20 and $4 shipping
31 minute DVD: $20 and $4 shipping
or a special "Two-fer" deal
Both for $30 and $5 shipping!!
Send Checks or Money Orders to:
Steve Bookout
Toad Hall Rifleshop
1600 W. 14th St. S.
Newton, Iowa 50208