Early Lancaster Rifle
Grade 6 Maple stock; all brass furniture; Double-set triggers; .50 Caliber swamped Getz barrel (1/66 twist); 3/8" ramrod, shop made-brass early lock.
This rifle persona will be a rifle representative of the J. P. Beck school, except it will have my influence. By that, I mean the carvings and engravings will by my own styling.
(Go to the bottom of this page for links on how this rifle was built.)
Here are some photos and a couple fly-by movies (warning they may be big).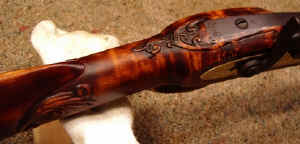 Barrel Engravings:
Large photo of cheek carving area: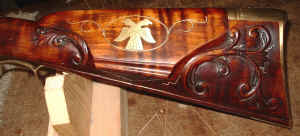 Large photo of patchbox engravings: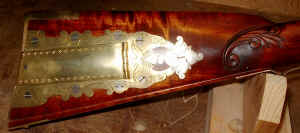 The gun in progress from beginning to the end.
Here is the initial pile of parts in the beginning:
bought the barrel personally from John Getz at Conner Prairie in 2002.
Here is a closer view of the furniture and the lock.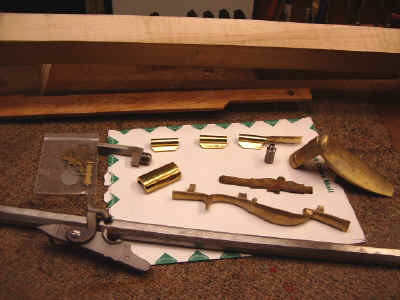 Details of the rifle project will have hyperlinks below to specific sections:
Pinning The Barrel To The Stock:
Trigger & Trigger Guard Installation:
Making & Installation of Nose Cap:
Making & Inletting the Toe Plate:
Engraving The Rifle Furniture:
Hoot AL Rifle Shop
(c) Copyright 2005. All Rights Reserved.