Side Plate Panel Work: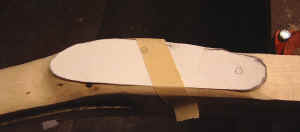 Lay paper over the lock panel and using a #2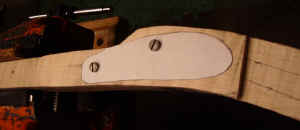 pencil shade around the perimeter to outline the lock panel. Cut out the pattern and lay it back onto the lock panel. Then I use a light from underneath to illuminate the bolt holes and trace them on the top of the pattern. This is where the bolts will be passing thru on the other side.
Trace around the pattern and see how the pattern lays out on the side panel. You may have to readjust the pattern, so the
pattern is aligned better with the wrist. Using gouge along the lines, remove the wood.
Side Plate:
To make the side plate, I took an 1/8" piece of brass and traced out a pattern onto a piece of paper and glued it to the plate. Cut out the rough pattern and then filed it down to shape.
1)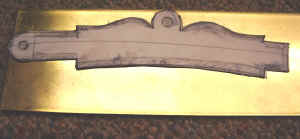 2)

3)

4)
To aid me in adding the bevel along the edges, I epoxied the side plate to a piece of wood and held it in the vice.
5)
Next I drilled a slight flat countersink for the lock bolt heads.
Here the side plate is just mounted to the stock: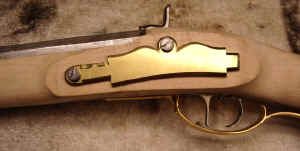 Note the side plate and the lock are the same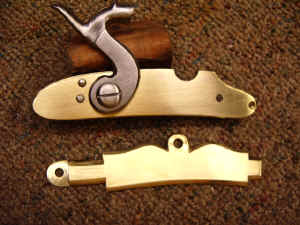 length, also I flattened the portion under the front lock bolt area on the sideplate. J.P. Beck always flattened this area on his side plates. I have yet to put a slight bevel on this transition yet. I also added a slight bevel along the edge of the lock and then lowered the lock panel to expose the bevel on the lock, too.