Installing Forearm Inlay: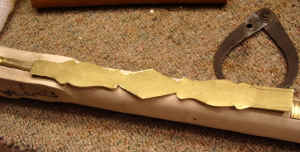 I patterned an existing forearm inlay my friend

Bookie gave me and then modified it for my gun. Cut the pattern out of a 1/16" thick piece of brass. Once the pattern was cut to shape and length, I then drilled holes along the edge of the inlay.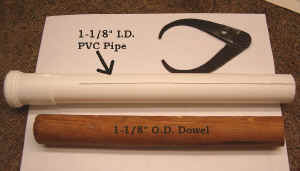 I need to bend the inlay to conform to the shape of my forearm. So I used my dividers to determine how thick my forearm was. It measured 1-1/8" thick. Then I picked up a piece of PVC at the hardware store that had an inside diameter of 1-1/8" and grabbed by 1-/8" wooden dowel. Next I cut the cuff off the end of the pipe and then cut the pipe in half lengthwise. This gave me two halves of plastic. The brass inlay was annealed by heating to red hot and quenched in water.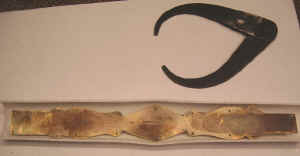 Making sure I knew which side was up, I took the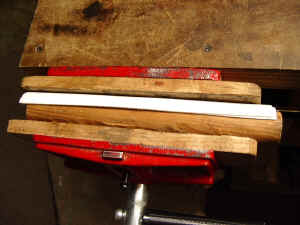 inlay over to the stock and laid it down on the rifle. Then I make "X's" on the top surface of the inlay. Now the inlay was laid down with the "X's" facing downward in half of the pipe. Placing this assembly into the other half of the pipe, I fitted the dowel into the assembly with the inlay. This whole thing was placed into a vise and the vise was closed all the way.

When the vise was opened, the inlay was removed from the inside of the pipe and then fitted to the under belly of the forearm. As you can see, it fit pretty good.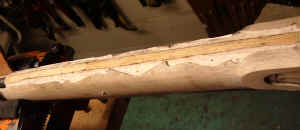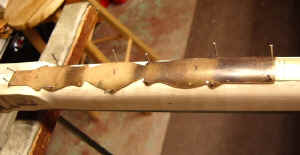 With the inlay positioned exactly where I wanted it, I then used brad nails to hold the inlay temporarily. This allowed me to use my knife to cut out the stock for the inlay. NOTE: Cut straight down (vertically) not from the side. You want the inlay to drop down into the stock. To the right, you can see you only inlet it a 1/16" deep. Use candle soot under the inlay to show you where excess wood needs to be removed.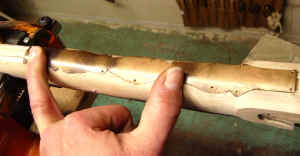 Here the inlay is finally inlet into the stock. Now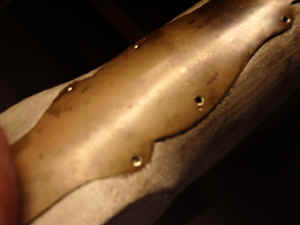 you want to countersink all the mounting holes on the top of the inlay.
Using 3/8" long brass brads, I nailed the inlay into the inletted area. Then I filed the brass down to the stock.
Below are the results of the finished product.