This is a .40 caliber Youth Early Transitional Tennessee Rifle. Notice the Carolina trigger guard and the early butt plate. This was an "Over the Mountain Rifle." The stock is Iowa Native Black walnut and the lock was a Chamber's Siler that was converted to a brass lock from some scrap brass laying around the shop.
Friends & Proud owner, Jacob with his Dad (Tim) of Ohio..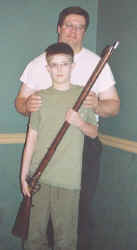 F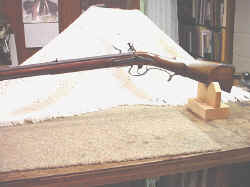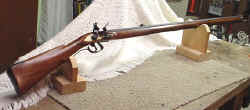 inished Rifle Photos: (Click on photos below)(Each photo will open into a new window. Click the "X" in the upper right corner of this window to close the window.)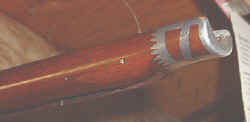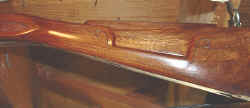 Unfinished Rifle Album: (In case your interested, Click on photos below.)
In the beginning, the bare necessities.
The barrel inlet into the stock and pinned.
Then the lock was inlet this into the stock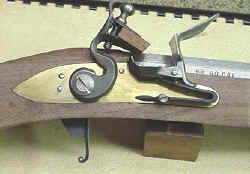 Next the trigger was forged out.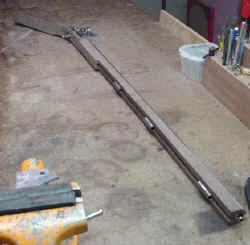 The stock was shaped, ramrod channel dug out & drilled, made some thimbles, then inlet them.
Put in the side plate bolts.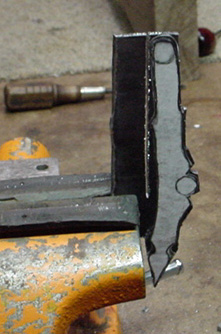 Made a side plate pattern and cut it out of scrap shop metal.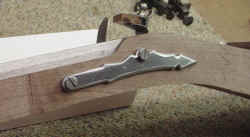 The side plate was inlet.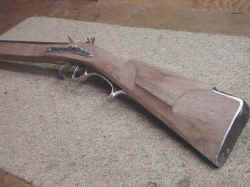 Next step was to start carving out the cheek piece.

Then the forearm shaped & trigger guard inlet and on to the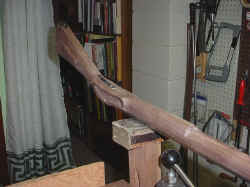 nose cap.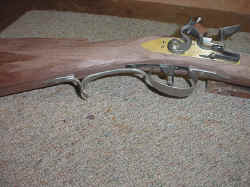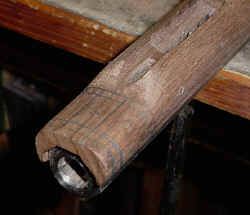 Nose cap was shaped and the lines for the carving are marked out for the poured nose cap.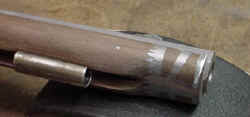 The nose cap was carved out and molten pewter was poured into the carvings, then filed down to the wood. (For better pictures how this done, see the Transitional Lancaster album.)
The toe plate as made from scrap steel in the shop.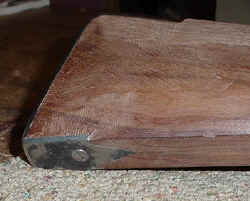 Hoot AL Rifle Shop
(c) Copyright 2005. All Rights Reserved.