Proofing The Barrel:
To proof the barrel, I use 200 grains of 2FFG blackpowder, two .605 patched balls (.015" patches). I borrowed Bookies barrel proofer he designed.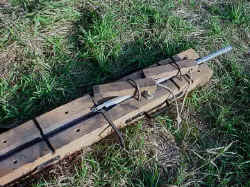 This is an example of what it looks like.
Here is a movie of the barrel being proofed. I lit the cannon fuse and filmed the gun going off. (Hope it doesn't take too long to load up for you.)
After proofing, you go over the whole barrel with a thin rag to feel for any bulges and look for any residual leaks at the flashliner and at the breech. The gun passed.