Installing Side Lock Bolt into Lock:
I located the hole for the entry point for the lock bolt into the lock bolster first. I want to use an 8X32 lock bolt, so I drilled the lock bolster with a #29 drill bit.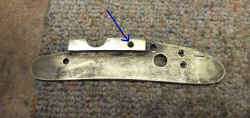 Then I installed the lock plate into the stock and used the lock plate as a drill guide to drill the same #29 drill bit thru the stock and the rear tang of the barrel.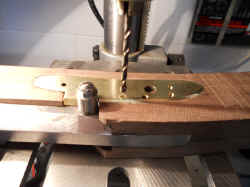 I then removed the lock plate using a tool made from a glass drawer pull with an 8X32 bolt inserted thru the knob. This was screwed in to lift the lockplate from the stock.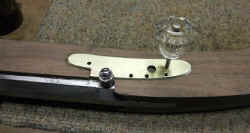 Now I used a 3/16" bit and drilled down thru the same hole previously drilled out with the #29 bit. This is now my passage hole for the bolt and the tap.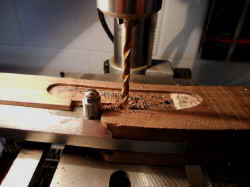 The lock plate was reinstalled and an 8X32 tap was inserted from the sideplate side and was tapped into the lock plate. Once tapped, I screwed in the lock bolt and then cut off then grinded the end of the bolt flush with the lock plate. This was done so the bolt did not interfere with the hammer on the lock.
With the lock now fully inletted into the stock. I cut an 1/4 dowel to the same height as my nipple and inserted this under the hammer. This will allow me to align the hammer on the drum and make a mark on the face of the drum for alignment of the jig to be used for drilling out the drum for the nipple.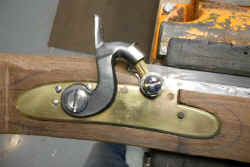 Note the blue line.
Hoot AL Rifle Shop