Inletting the Barrel & Tang:
I took a pattern for a Southern Mountain rifle and laid it out onto a blank piece of walnut. Traced the pattern and then cut it out.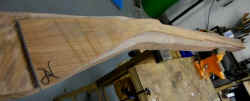 Next I drew a center line down the stock and measured out for the 1-1/8" barrel channel. I removed wood down to the depth of 1/4", which is 1/2 the barrel flat of the barrel. Once this was done, then I created a channel 1/2" wide and 9/16" deep down the center. Using a 3/8" chisel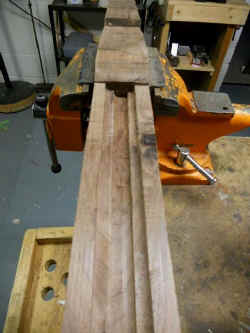 I removed the wood from sides down to the center flat. This created my octagon channel.
Once this was completed, I laid the barrel in the channel with candle soot to ensure the barrel bottom flat was consistent and made good contact with the bottom flat of the barrel.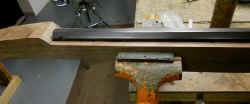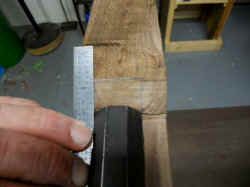 Next I had to mark the stock in the breech area to move the barrel farther back into the breech area of the stock. I used a ruler aligned against the barrel flats and extended the pencil lines.
In order to make sure I had a flat wall at the breech, I sooted the end of the barrel and mark the wood. I removed exposed wood till I had an even marking on the stock to indicate I had tight fit of the barrel against the end of the stock in the breech.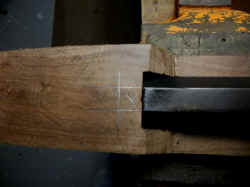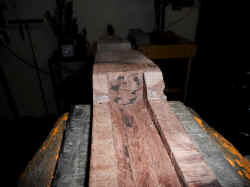 Now I can mark out the location of the barrel tang so I can now inlet this into the stock.
I removed the wood for the base of the tang.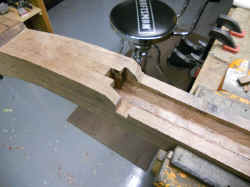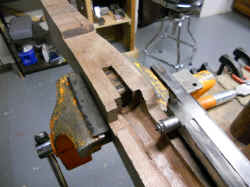 Then I lowered the barrel into the cut-out, traced the tang after I bent it to conform to the shape of the wrist and removed the wood to the proper depth.
Now I can file the metal tang down to the wood.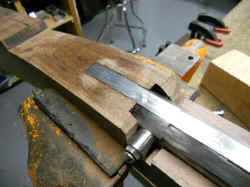 Now the next step was to draw file the whole barrel and shape the stock so I can pin the barrel to the stock.